Loving where you live has never been more important. With all the extra time at home, you must address the eyesores. Winter is the perfect point in the year to work inside and complete interior projects. Freshen up your space before spring. Call or connect with Farha HomeTrends for bathroom, kitchen and bedroom remodeling.
Add Local Flair
Making your house into your home includes adding personal touches and unique artifacts. Pictures from your travels and family heirlooms put a smile on your face. Find unique pieces you love that give your house character and represent the family who lives inside.
Wichita has many fun shops filled with unique home décor. The Farha HomeTrends design team recommends these local businesses for your next home furnishing favorites.
Enjoy the remodeling process and pick up the finishing touches from locally owned retailers. Leave the tough stuff to Farha HomeTrends. Count on the experienced Farha team to build or demolish interior walls, install new flooring, refinish cabinets or replace old tile and countertops.
Remodeling Made Easy
Have confidence in Farha HomeTrends. Bringing your vision to reality with skilled craftsmen and trusted sub-contractors, you'll enjoy the process and love the results. When the work is done, sit back and appreciate the new space with a nice glass of wine from Wichita's own Jenny Dawn Cellars.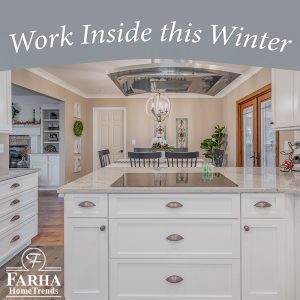 - Loyalty Means Something To Us -
Much of our business stems from repeat clients and client referrals, which we believe shows our commitment to our customers. Choosing a company to remodel your home is a very important decision, but we hope to lessen your burden. We hope you will choose Farha HomeTrends to make your home beautiful, whether it's for a master bathroom remodel, a kitchen remodel, custom flooring upgrades, or any other kind of home remodel you can dream up!
Farha HomeTrends is NAHB Green Building Certified
Green homes incorporate environmental considerations and resource efficiency into every step of the building and development process to minimize environmental impact.

Lead Safe Certified Contractor
Starting in April, 2010, federal law will require contractors who work in homes, child-care facilities or schools built before 1978 to be specially trained and certified and to follow more stringent work practices to prevent lead contamination. Farha HomeTrends has completed the training required to ensure that any remodeling performed in homes that were built pre-1978 will be contained and cleaned according to EPA guidelines.