Diving head-first into home remodeling can be overwhelming. More than just picking colors and textures, you want a unified plan to bring it all together. Without a plan, what starts off as a simple idea, quickly expands. Before you know it, a fresh coat of paint turns into a full-blown room or whole house remodel. Work with Farha HomeTrends to prioritize home projects and draft the right plan for your home remodeling.
Manageable Projects, Beautiful Results
When done correctly, remodeling adds value to your home. Fixing problem areas and dysfunctional spaces makes day-to-day life more enjoyable. Plus, updated homes are more appealing to potential buyers and command a higher price on the market. Get the most out of the place where you spend the most time. Now, more than ever, home remodeling is a good investment.
If there is a room in your house that you hate, start there. Alleviate the pain points first. Bathrooms, entry ways, laundry and mud rooms are all good options to get underway. Look for ways to unify each area of your home. Think about the themes that you want to run from room to room.
Remodeling Made Simple
Farha HomeTrends is here for your home remodeling projects, big and small. Whether you want to fix functional issues in the master bathroom or take the whole first floor down to the studs, Farha HomeTrends has you covered. The professional, experienced team listens to your ideas, draws plans that fit your budget and executes every detail.
Don't let remodeling projects intimidate you. Keep it simple, start small, work with professionals and slowly increase the value of your home with impactful investments. Call or connect with Farha HomeTrends online for a free consultation.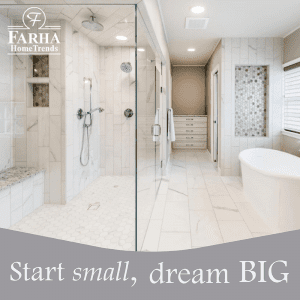 - Loyalty Means Something To Us -
Much of our business stems from repeat clients and client referrals, which we believe shows our commitment to our customers. Choosing a company to remodel your home is a very important decision, but we hope to lessen your burden. We hope you will choose Farha HomeTrends to make your home beautiful, whether it's for a master bathroom remodel, a kitchen remodel, custom flooring upgrades, or any other kind of home remodel you can dream up!
Farha HomeTrends is NAHB Green Building Certified
Green homes incorporate environmental considerations and resource efficiency into every step of the building and development process to minimize environmental impact.

Lead Safe Certified Contractor
Starting in April, 2010, federal law will require contractors who work in homes, child-care facilities or schools built before 1978 to be specially trained and certified and to follow more stringent work practices to prevent lead contamination. Farha HomeTrends has completed the training required to ensure that any remodeling performed in homes that were built pre-1978 will be contained and cleaned according to EPA guidelines.